We've all got things to do. Tasks are a part of life — both at work and at home — and while to-do lists and day planners may work for some of us, they're not a good fit for everyone, especially when it comes to managing tasks as part of a team.
Task management tools are everywhere these days, and they can be as simple as a pencil and notebook or as advanced as downloadable apps and project management software. There's no shortage of options available to help you and your team work more efficiently and get more done, but the sheer number of choices can be overwhelming.
To make things simple, check out our top picks to find the productivity tool that's the right fit for you as well as one that'll help your team work together successfully.
Task management tools: Personal Productivity
Evernote is much more than a note-taking app. You can type or jot down everything in Evernote — from a grocery list to a research paper — and access your documents from anywhere: phone, computer, Apple Watch and more. Evernote also lets you save photos, screenshots, links, receipts and recipes, among countless other items, organize them with tags and location data and set reminders to create a personalized productivity system. You can even use your phone's camera to pull data from handwritten notes and business cards and turn them into digital notes.
Don't know where you saved something? No problem. Evernote's search tool recognizes not only type but also text inside images and scans, so you can find everything you need with a simple search.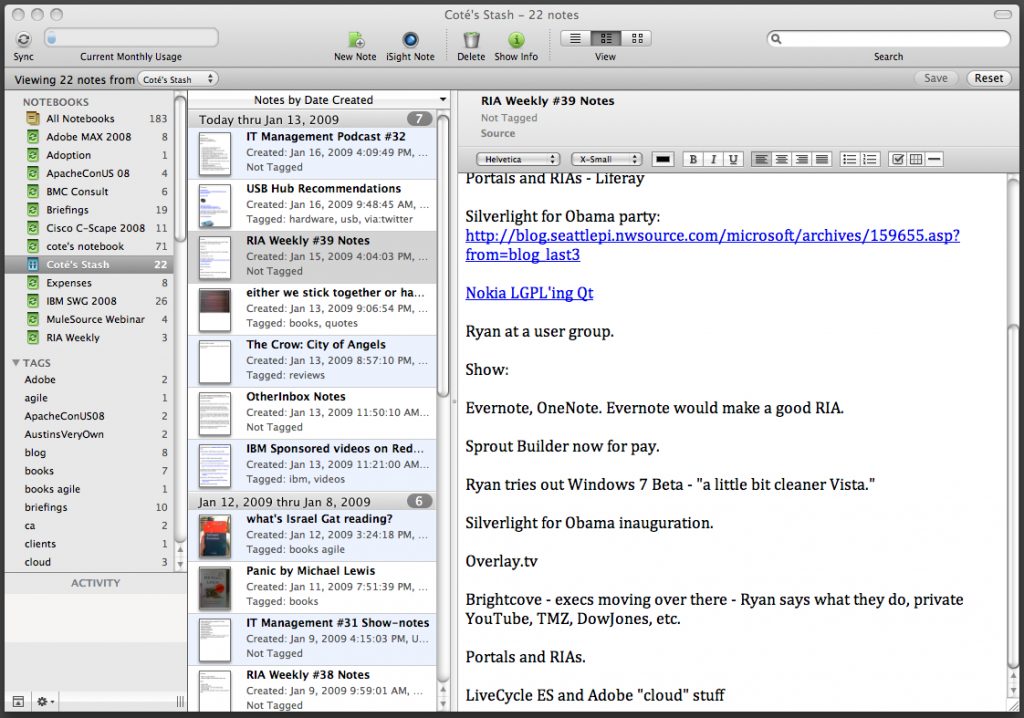 Evernote's basic plan is free, but you can opt for the premium plan for $7.99 per month. There's also an Evernote business plan that's $14.99 per user per month.
Airtable is a hybrid of a spreadsheet and a database that operates as a project-management solution. This cloud-based tool can be used for a variety of tasks and comes with numerous built-in templates that allow you to easily set up content calendars, product catalogs, marketing campaigns and event planning, among many other items.
You can use Airtable to prepare for a trip, track projects, plan events, create databases for restaurants you want to visit, track chores and so much more. For example, in the screenshot below, this task management tool is being used to organize and track a home remodel.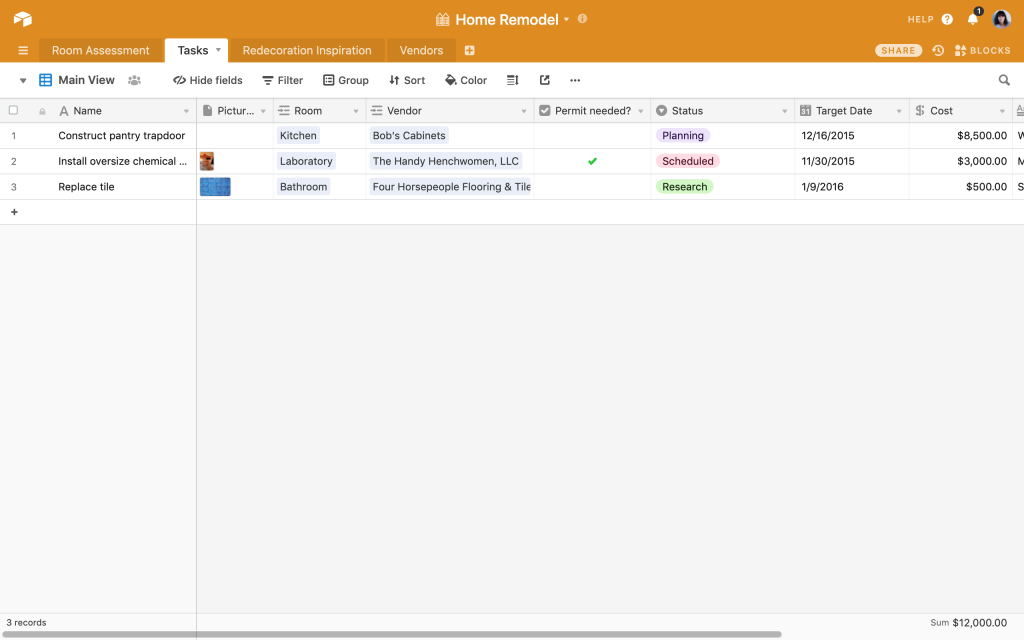 While a free version of Airtable is available, for $10 a month, you can upgrade your plan to gain access to more features and storage space.
Do you ever struggle to reply to emails in a timely manner, respond to team chats when a new task comes up, or even update your social media profiles? If so, FollowUp may be just what you need.
This productivity suite helps you stay on top of tasks and conversations and prevent important matters from slipping through the cracks. The project management tool lets you set up timed reminders and schedule emails to be sent at optimal times. You can get real-time notifications when contacts open your emails and set reminders for items outside of your email, such as online chats and social media sites.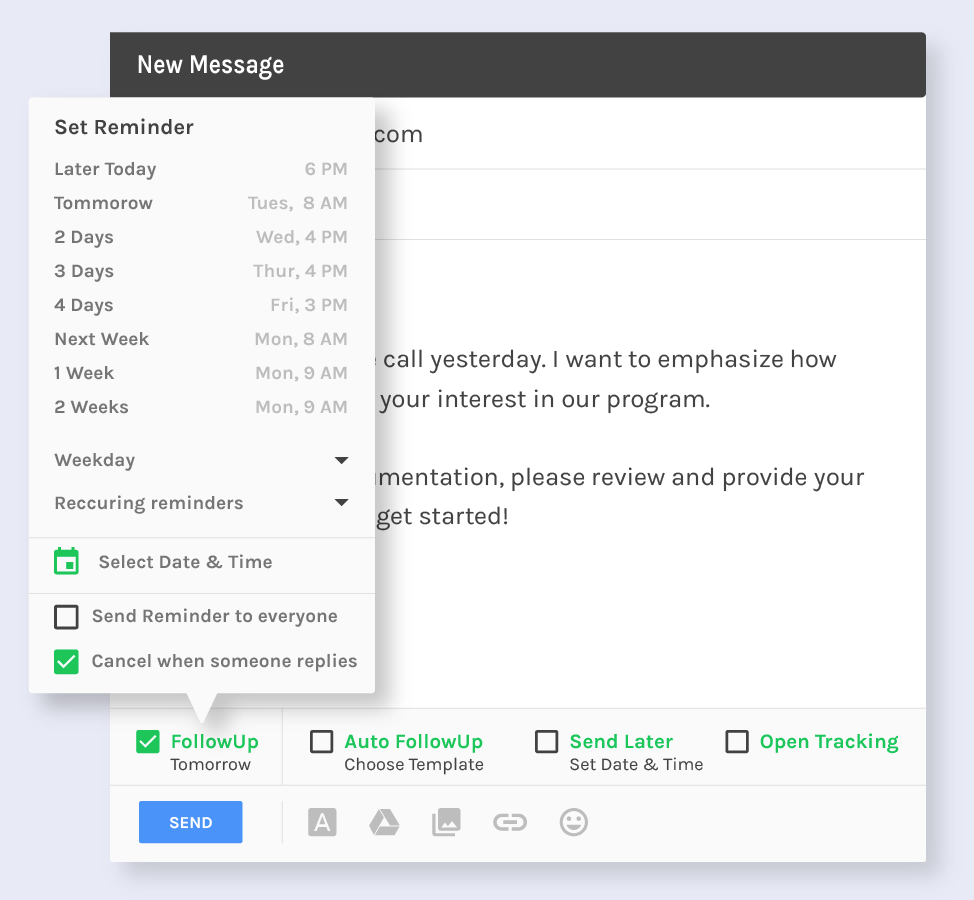 FollowUp offers several different plans, and the starter one is $18 per month.
Google's note-taking service lets you do much more than simply take and save notes. You can also upload photos, shopping lists, addresses, phone numbers, voice memos and anything else you need to keep track of. When you're done with a checklist or report, don't delete it. Instead, archive those files, so they'll be easily searchable in the future, not only by title but also by content.
Because it syncs to Google Drive, you'll have access to your information whenever and wherever you need it, making your data instantly and easily portable.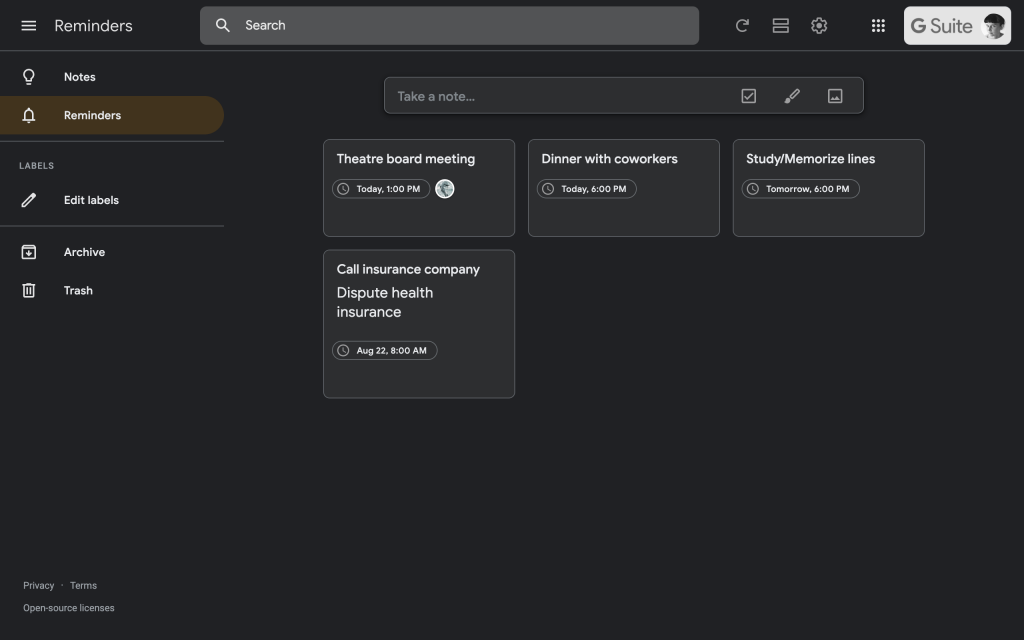 Google Keep is free.
There's a lot you can do with Google Calendar. In addition to maintaining multiple calendars, so you can manage both personal and professional tasks, you can also find calendar openings for various people and schedule meetings. Within a scheduled meeting, you can set up phone or video calls, send invites and even add attachments to ensure all attendees have access to the documents they need.
Enable desktop notifications to ensure you never miss a meeting, and sync your Google Calendar with your CRM or marketing software to keep everything streamlined.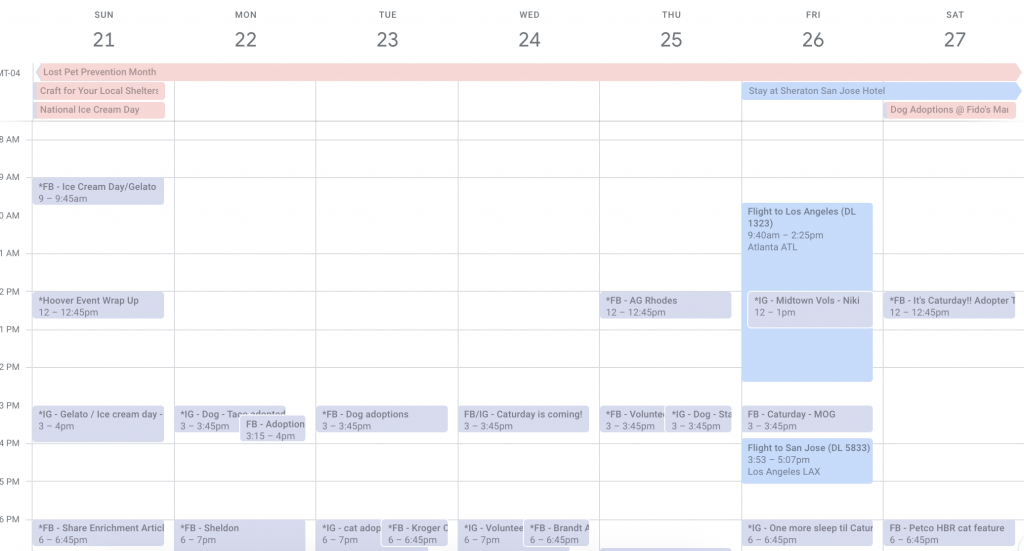 Google Calendar is free.
This to-do list app and task manager gives you a clear view of everything you need to do, and it allows you to categorize and prioritize tasks and subtasks, set due dates and assign tasks to other users. You can also set recurring reminders to help you develop new habits as well as monitor your daily progress and overall productivity.
Todoist works with various systems and has numerous integrations, so you can access your list of tasks from your desktop, mobile device and wearables. There are even browser extensions and email plugins to ensure you never miss a thing.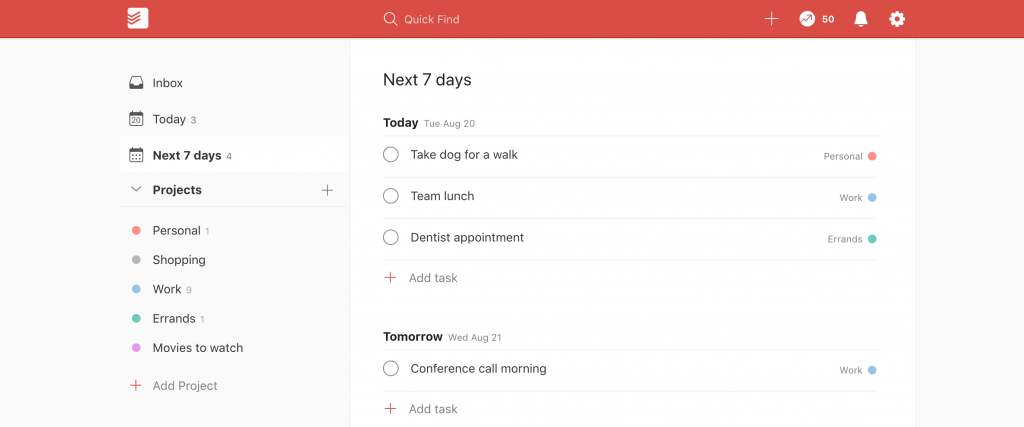 You can track up to 80 projects with Todoist's free plan, and you can get access to the premium plan with additional features for $3 per month.
7. Pen and paper
Sometimes putting pen to paper is the best way to make your to-do list and keep track of everything, and for some people, it's a comfort to have the constant reminder of a notebook on the desk, a planner in the briefcase or a calendar on the wall with all their appointments. There are various ways to develop the productivity system that works best for you.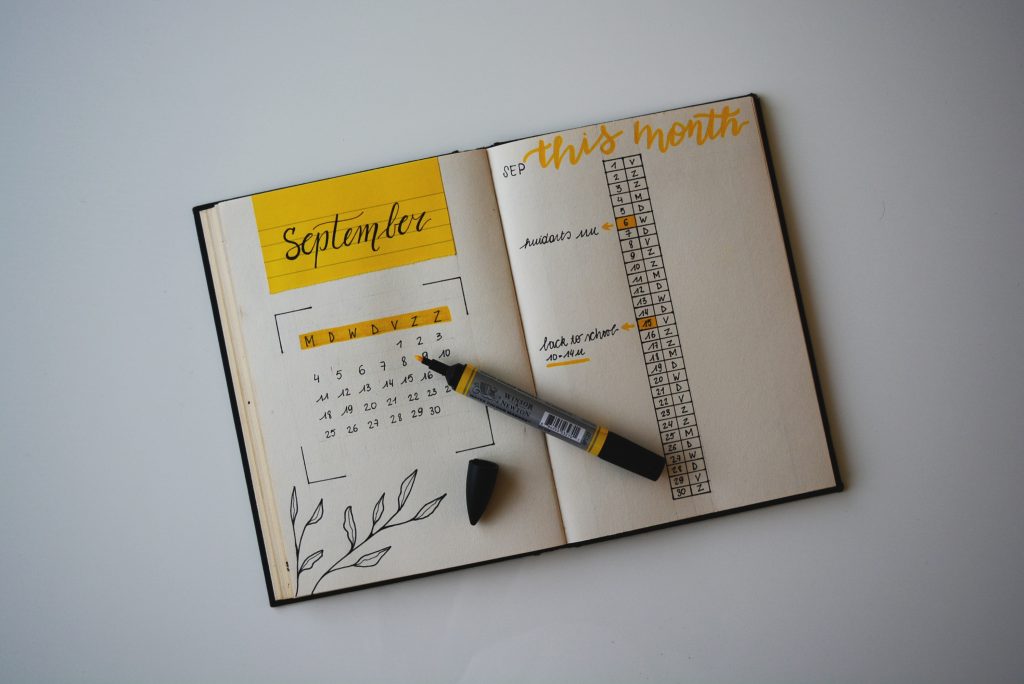 Check out this article by I Done This to learn how you can master the art of the to-do list.
Task management tools: Team Productivity
We designed this web-based productivity tool using the science from a Harvard study about the power of small steps to help businesses and teams stay on top of tasks. It's been used by numerous companies, including Zappos, American Express and Foursquare — as well as us, of course.
Each day the application emails users one question: "What did you get done today?" Team members reply with everything they accomplished, and the list of daily accomplishments is shared across the team, allowing other users to comment, ask questions and provide feedback.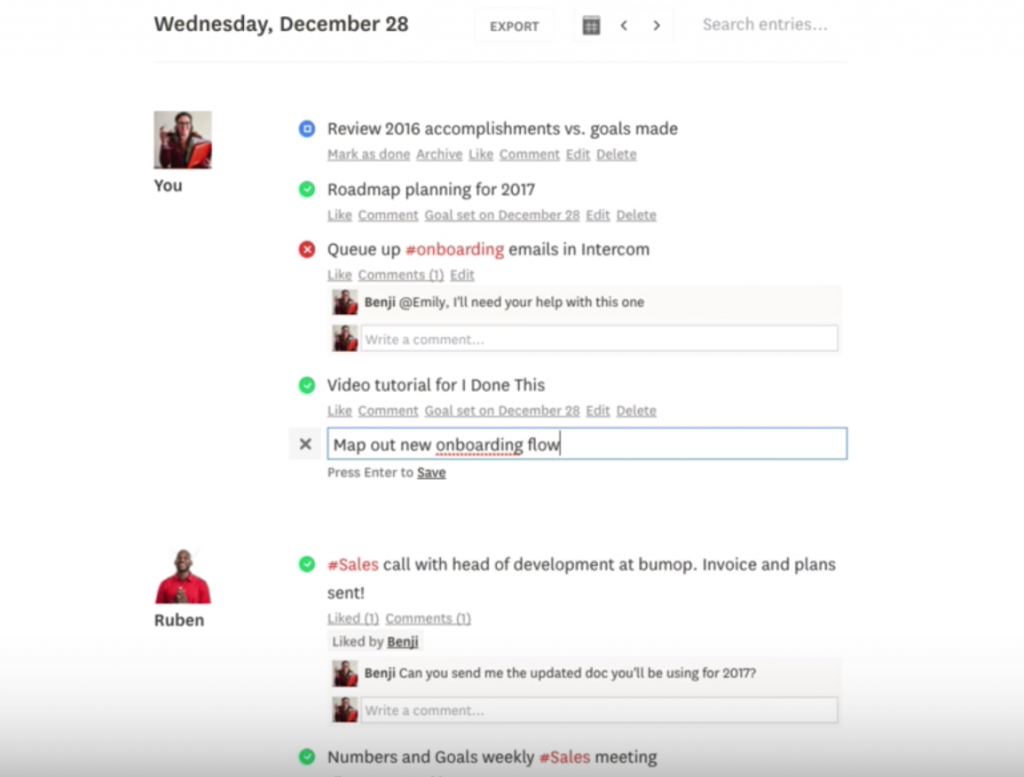 Prices for I Done This vary by the number of users: $9/user/month billed annually or $12.50/user/month billed monthly. For more features, it's $22/user/month billed annually or $25/user/month billed monthly.
Trello is a product management tool that allows users to organize tasks and information in a very visual way. Users set up Trello boards made up of lists, and items within the lists are called cards. These cards can be moved around, dragged and dropped into other lists or reordered however you'd like.
Individual cards can contain not only tasks, but also images, attachments and checklists, and they can be color coded and assigned due dates for ultimate organization. The boards you create essentially become digital cork boards that you can easily rearrange in a way that makes sense to you.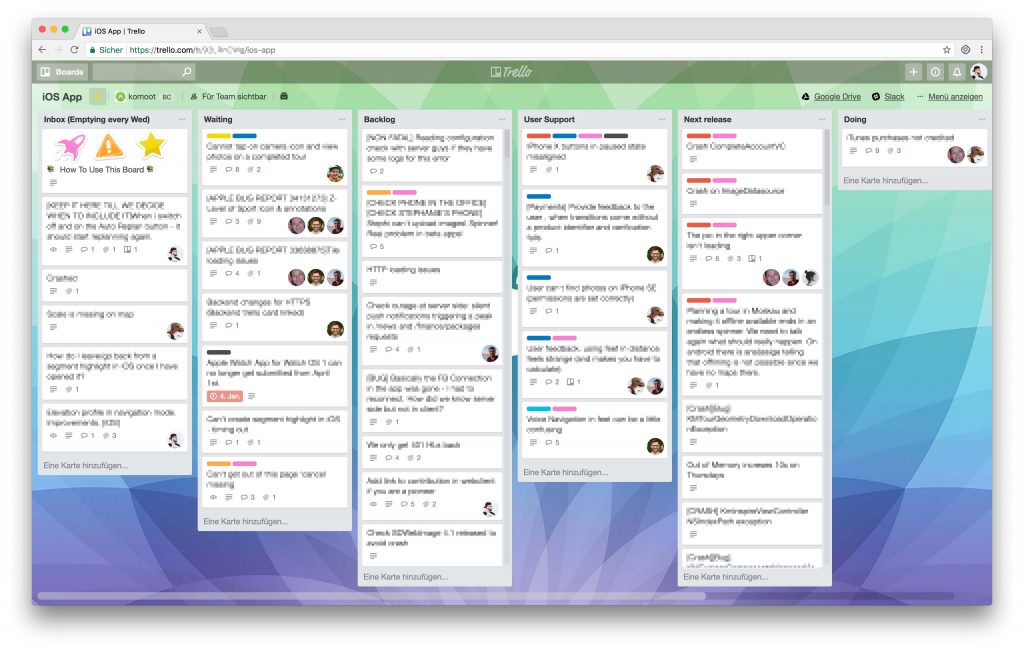 Individuals can use Trello for free, and team pricing goes up to $9.99/user/month billed annually or $12.50/user/month billed monthly.
This project management software aims to reduce the need for email and unnecessary meetings by allowing teams and individuals to create projects, assign tasks, set due dates, share documents, comment on progress and communicate about tasks directly within Asana.
In addition to organizing tasks and helping team members reach goals, Asana also allows you to visualize to-do lists and workflows. You can map out projects on timelines, so you can see the relationships between various tasks, and there's even a calendar view, so users can easily see openings or overlaps in team members' schedules.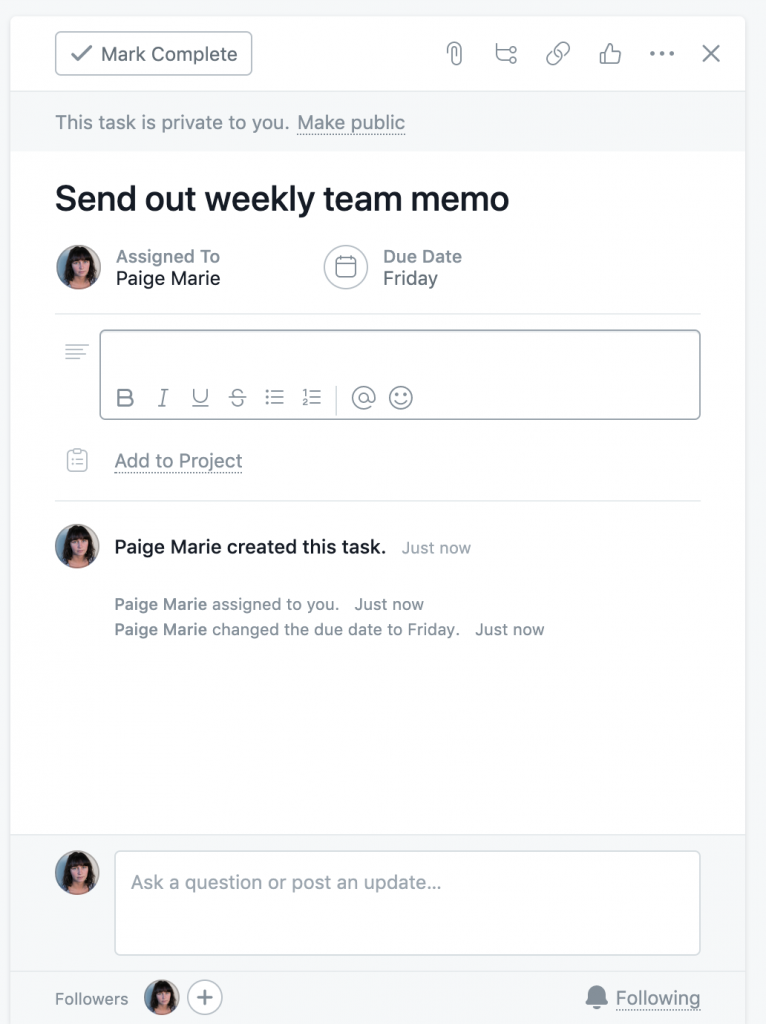 Asana is free for individuals or $9.99 per user per month billed annually, or $11.99 billed monthly.
This task management software not only lets you create personal tasks and assign them to multiple users, but you can also break those tasks into smaller, more manageable subtasks. You can organize tasks with labels, set due dates and time estimates, and even track time spent on tasks and save the information directly in timesheets.
Within ProofHub, you can also attach files, comment on them and proof them as a team, and the software creates custom reports and provides users with an overview of logged hours, as well as completed, upcoming and overdue tasks.

ProofHub is $45/month billed annually or $50/month billed monthly. For additional features, it's $89/month billed annually or $99/month billed monthly.
Flow bills itself as "project management software that doesn't feel like work," and it's known for its flexible design that can be adapted to a variety of team projects. Users can take an up-close look at their own projects and tasks or zoom out to get a bird's-eye view of every team member's individual workload.
With Flow's calendar view, you can see, at a glance, who's available and who's not and easily reassign tasks and rebalance workloads by simply dragging and dropping items.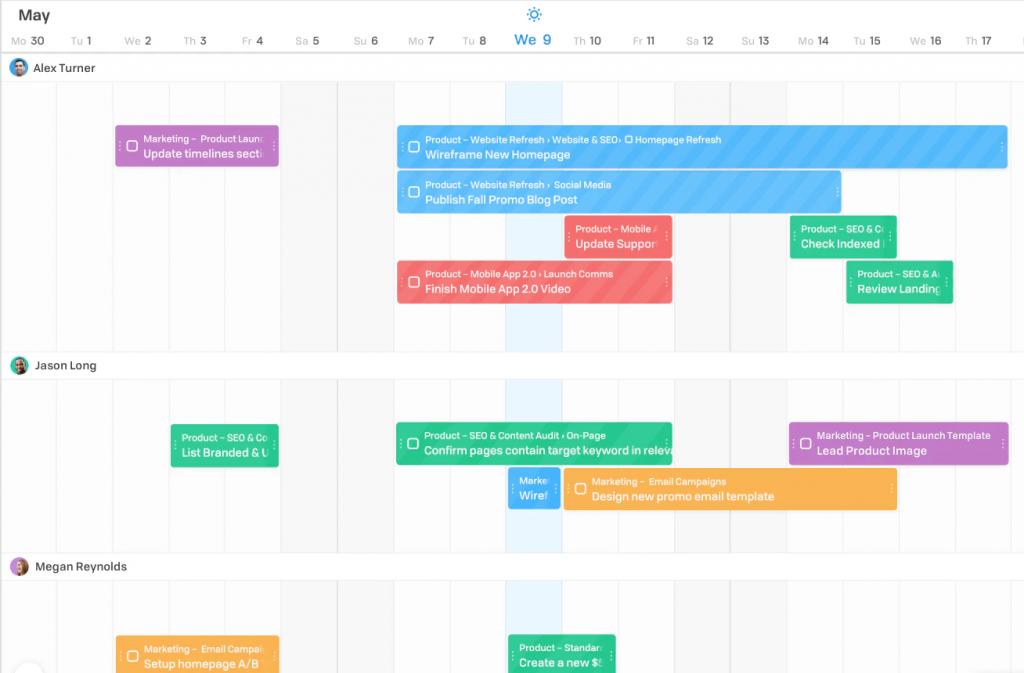 Flow costs $5.95/user/month billed annually or $7.50/user/month billed monthly. For more features, the price increases to $11.95/user/month billed annually or $14.95/user/month billed monthly.
Taskade is an easy-to-use to-do list and task manager application that comes with numerous templates to help you create everything from checklists and workflows to mind maps and bullet journals.
Team members can collaborate on the same pages and projects in real time, and Taskade will automatically sync data so that information is always up-to-date across devices and locations.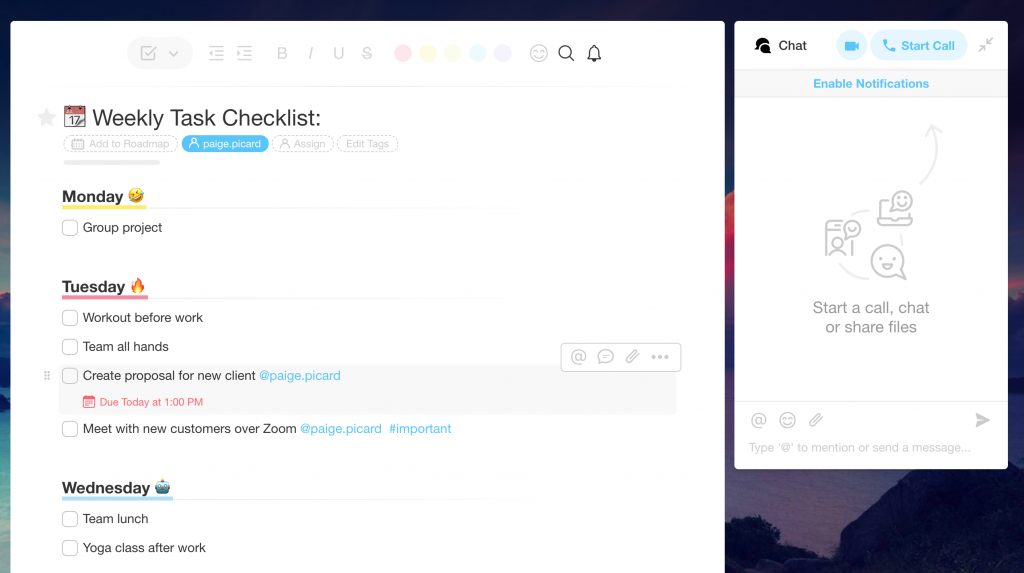 Taskade is free, but you can add unlimited team members and additional features for $7/user/month billed annually or $10/user/month billed monthly.
Process Street helps you create and manage recurring workflows for a team. You can easily create and edit procedure documents, assign checklist workflows, track team activities and get notifications when tasks are completed. Workflows can be scheduled daily, weekly or monthly, or they can be set up to automate at specific times, such as during new client onboarding.
The software integrates with more than 1,000 apps, including Dropbox, Salesforce and Google Drive, to automate various tasks and update apps when certain actions take place within Process Street.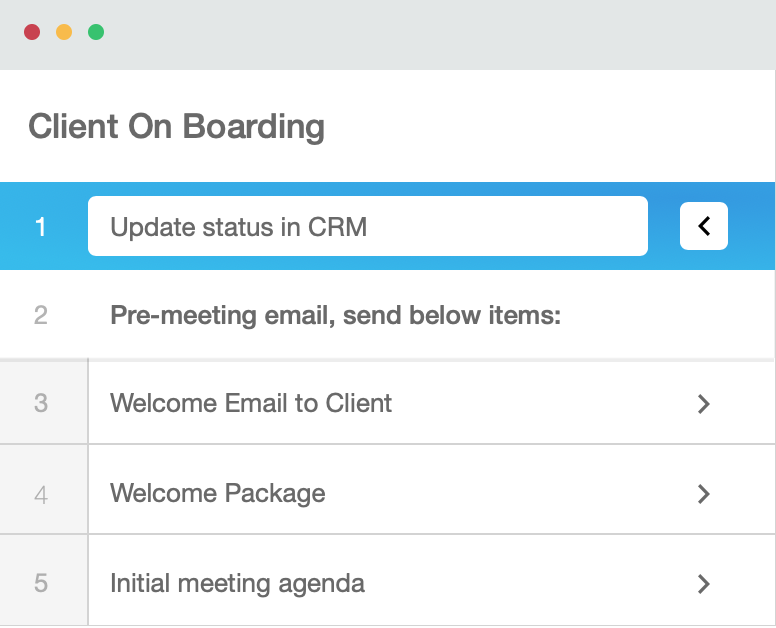 Process Street is $12.50/user/month billed annually or $15/user/month billed monthly. For additional features, the cost increases to $25/user/month billed annually or $30/user/month billed monthly.
Designed specifically for sales teams, Outreach is a sales-engagement platform that enables users to establish workflows and create a measurable series of touchpoints to improve customer engagement. Members of a sales team can use it to organize tasks, schedule emails, track email opens and clicks and much more. Outreach also has valuable analytics information that can reveal performance insights to help the entire team become more effective sellers.
Numerous companies have found success utilizing Outreach, including AdRoll, DocuSign and Sapphire Ventures.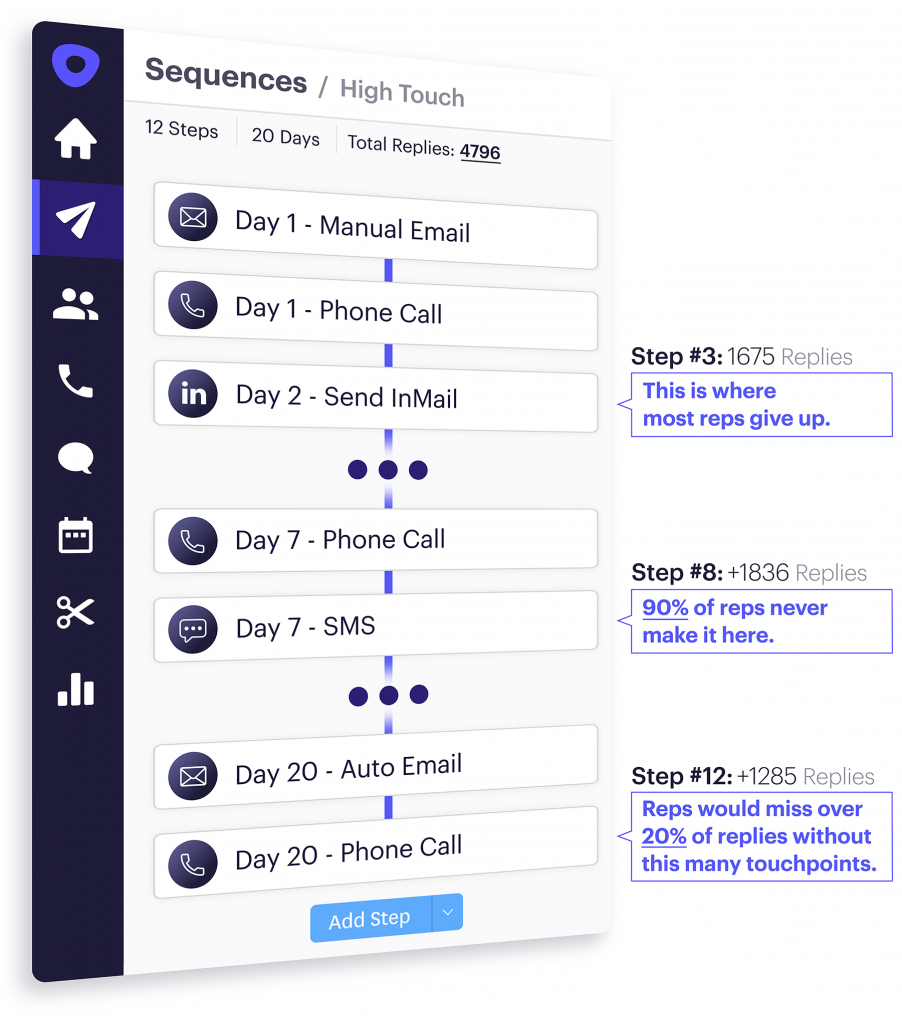 Contact Outreach for pricing.
This task management software allows users to track, manage and collaborate on team tasks. The intuitive software lets people create and assign tasks, make checklists and set recurring tasks, and for sensitive projects, there's the option to create private tasks that only the creator and assigned team members are able to access.
Task Pigeon enables teams to collaborate by commenting directly on tasks in the app or via email, and email notifications keep all team members up-to-date on tasks, new comments and deadlines.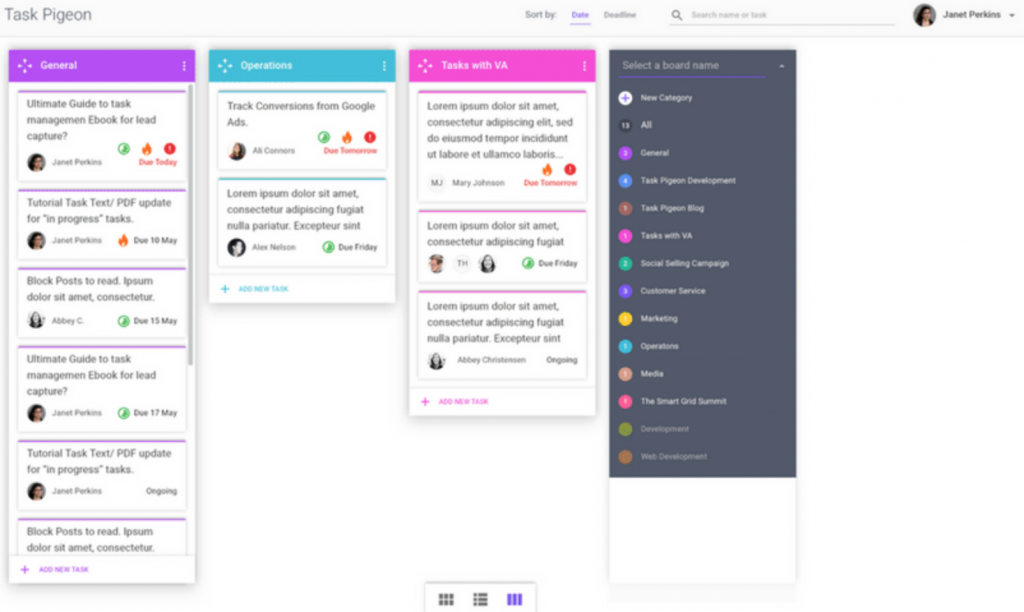 Task Pigeon is free for up to five users or goes up to $9/user/month for additional users.
Which task management tools will you choose?
We've delved into 16 different task management tools, and each has its own pros, cons and unique features. To find the one that's right for you, start by simply giving one a try. Many of the tools above are free, and those that have a monthly or annual subscription cost typically offer free trials.
You can also experiment with various task management tools that may integrate together, so you can use them in personalized ways. For example, you can integrate Trello and Asana, so teams can collaborate while using the tool of their choice. After all, the key to getting more done with a task management tool is simply finding the one that works best for you.
P.S. If you liked this article, you should subscribe to our newsletter. We'll email you a daily blog post with actionable and unconventional advice on how to work better.